TM Tractor Parts
Recommended Decal Placement
Back to Decals
Decal shown on hood and fuel tank RH side. This decal was used on McCormick Farmall Cub with squared style front hood with flat grille.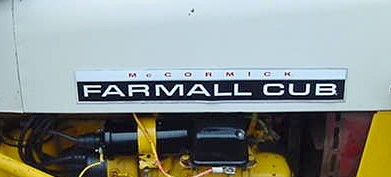 TM Tractor Parts LLC is not the final authority on decal placement.
However, we provide basic recommendations as a service to our customers,
based on our knowledge and experience, and published materials.

~
Actual decal placement is the right of each tractor owner to do what he or she feels is correct.
Home · Contact Us · Help for Cub Owners
Copyright © 2001 - 2015 TM Tractor Parts
A division of Windy Hill Restoration LLC
FARMALL®, CASE IH LOGO®, IH LOGO®, IH-INTERNATIONAL HARVESTER®, MC CORMICK, MC CORMICK-DEERING®,
are Registered Trademarks of CNH Global N.V. and its subsidiaries.