"stand beside her
and guide her..."


TM Tractor Parts
~ ~ ~
Closed for VACATION
until Tuesday, September 2, 2014
~ ~ ~
---
Specializing in Farmall Cub & Lo-Boy
Welcome to TM Tractor Parts LLC
---
We deal primarily with the McCormick Farmall Cub,
International Cub, and International Lo-Boy, offset series tractors.
---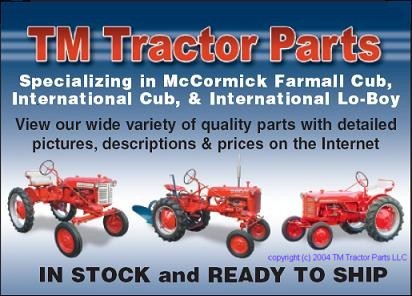 Our goal is to be your online source for Farmall Cub and Lo-Boy parts.
We hope you enjoy doing business with us!



Copyright © 2001 - 2014 TM Tractor Parts LLC
Farmall® is a registered trademark of CNH America LLC.